Roman school of mandolin making was well-known in pre-revolutionary Russia.  Roman mandolins were mostly imported by the individual clients in Russia directly from the luthiers or brought in to Russia as personal import. A few G.B Maldura instruments have surfaced in Russia and also an occasional Roman mandolin of other makers.
1879 Antonio Petroni instrument from St. Petersburg
Giovanni Batista Maldura mandolin circa 1901 from Ukraine

Luigi Embergher original mandolins were available via Julius Heinrich Zimmermann – the largest musical instrument dealer in Russia.
An original 1910 Embergher label with added 1912 label of J.H. Zimmermann
As the WWI started in 1914, all German-owned businesses in Russia were ordered to close and J.H. Zimmermann, German national has been forced to sell his musical dealership business to his partners, who had Russian citizenship. The new business name was Lemberg, Lekae and Co.  New business inherited Embergher dealership from J.H. Zimmermann.
1916 Luigi Embergher Orchestra No. 2 mandolin, bearing Lemberg, Lekae and Co shield.
Other dealers also tried to capitalise on popular Roman models. One such dealer was Jacob Rozmyslov from St. Petersburg.  He offered "The best copies of famous Maestro Embergher" in his 1913 catalogue:
The whole line of Embergher-styled mandolins in distinctive new Embergher shape with recurve line of the body, but with the older Embergher symmetrical style scratchplates. These instruments were unlabelled.
Embergher copies in St Petersburg featuring in 1913 Jakob Rozmyslov catalogue
I was lucky to find the best instrument of this line, the mandolin based on Embergher No.5 model: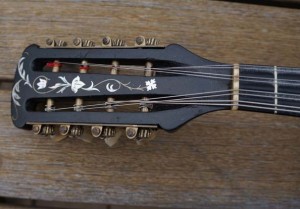 The instrument turned out to be made by Puglisi Reale & Figli, it has a stamp at the inner side of the top. It has been restored to perfection by Maestro Lorenzo Lippi in Milan in 2016.